Chuko Original Kiln Firing

Ryukyu Gusukuyaki, Southeast Asian Kiln Firing, has its origin in 15 to 16 century when Ryuku kingdom flourished by trading with overseas.
The feature of this kiln firing is not using any glazes to make a pot. Using only fire to make it so dense and firm. This technique is irreplaceable for making vessels, Awamori and Kusu.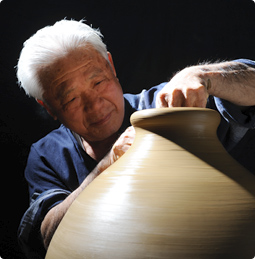 Arayaki means firing a pot without using any glazing or coloring.
It uses only fire in a kiln to produce dense and firm pottery. The pots made in this method have been considered the best to mature Amamori.
Such minerals as iron and etc. contained in the clay melt down and leak out of a pot and facilitate the process of Awamori maturation.
We focused on the effect and started our thorough research on it.
We decided on our company policy, "Searching for a better way to produce Awamori and Kusu" as our slogan.
Our founder had kept spinning a potter's wheel until he found a perfect proportion of mixed soil. We were the first ones to have succeeded in producing pottery among all Awamori distillers in Okinawa.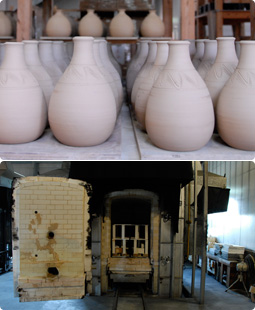 A pottery flake
It is made of a fine tiny particles of clay and fired so firmly that it has a high density and makes a high note of a metallic sound.
Bizen Yaki, a famous pottery made in mainland, has the contraction rate of 20 %, while Chuko pottery of 45 %.

Therefore, we proudly recommend to you our pottery which is firm and suitable for your liquor maturation.

※Please feel free to pick up the fragment and see the cut section.