Just enter the map code, and it will lead you to your destination without any trouble.

Tourists from overseas
We have tours and accouchements only in Japanese language. However,wi sill provide English
brochures at the distillery. Also,there are some explanatory panels in English during the tour.

Available from one person. Please make a reservation in advance if you have more than 10 people
and if you need special assistance.
Please e-mail at kengaku@chuko.org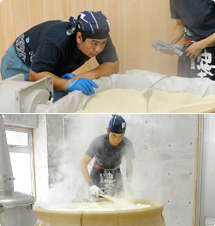 Manually operated Awamori Distillery
We have restaged the old traditional method of Awamori Here!
Only 60 bottles are produced at a time by this way.
Unlike a large-scaled modern factory,experienced and skilled craftsmen are needed all through the process.
We have devoted our time and efforts to produce this traditional Awamori.
①Steaming of rice by traditional large pot-shaped strainer
②Aging of fermented broth in our original kiln-fired pots
③Distilling Awamori by a traditional large pot (seen only here on this island)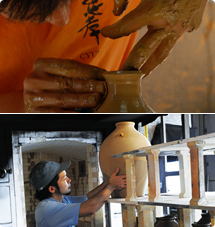 Chuko Kiln
The firing process in Chuko original kiln can be observed here.
Shigeru Oshiro, the Founder and Chairman, first started producing Ku-su clay pots in the Awamori industry. The pots of highest quality don't need any glazing to be dense and firm.
They can be created tight through the firing in a kiln.
All the pots and clay vessels seen here at Chuko Distillery are the production of kiln firing only, without glaze.
Every item is handmade, and the rising fire pattern on each pot is one of a kind.
Each pot is "only one in the world." Also we, Chuko Distillers, have advocated and supported the idea of "Kashu Kaho," homemade liquor is a family treasure.
This idea dates back to the time of Ryuku Kingdom. The liquor of 50 or a century old is passed down from one generation to another.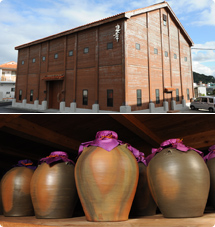 Wooden Cellar for Ku-su
This wooden architecture with a solemn atmosphere are filled with Ku-su and fine wood aromas, and a sound of classical music. This is the biggest wooden building next to the largest wooden structure, the Shuri Castle in Okinawa.
It holds 18 tanks of liquor equivalent to 25,000 bottles of Awamori, 450,000 bottles of Kusu, and 800 liquor pots. We are proud of this facility and at the sametime, this is a sacred place. We have received numerous thank-you letters from tourists saying, "Subtle scent of Kusu and wood, and the classical music being played all the time highlighted our journey to Okinawa."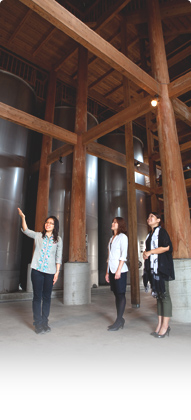 Fee
Free of Charage
Hours
Please contact us for details at kengaku@chuko.org
【Business Hours】
9:00AM-6:00PM Everyday except on the New Year's Day(January 1

st

)
Tour Time
Approx. 1 hour
Tour Contents

①Introduction DVD movie
(about the history of us and Awamori)
②Manually operated Awamori Distillery
(Traditional method of distilling Awamori)
③Pottery Factory
(Chuko Original Kiln and the Process of Chuko Original Kiln Firing)
④Wooden Cellar for Kusu
(The biggest wooden building next to Shuri Castle)
⑤Basement Cellar
(We keep your bottles in a perfect condition for 5 years up to 20 years max.)
⑥Complimentary Awamori Tasting
(Try out award-winning Awamori, and Chuko's original non-alcohol beverages.)
※Quick tour is also available to suit your schedule. Please contact us for more info.